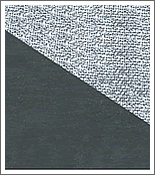 Material:
Made of asbestos Fibre, rubber and heat-resisting packing material with steel wire inserted, compressing it to thick paper.
Uses:
Used for the equipment in water, steam, etc. and used as sealing material in the joints of pipeline
Working pressure : 0.8 Mpa , Max working temperature: 150℃


Sizes: 1520 x 1360 x (1.0 – 5.0)mm,
1270 x 1300 x (1.0 – 5.0)mm
Packing: in wooden pallet of about 1000 kgs, 2000kgs net each.